Microtia Reconstruction
What questions should I ask during my consultation?
Most parents have a lot of questions and concerns regarding microtia reconstruction surgery. Any parent would have concerns considering the length of the process and multiple surgeries necessary. However, it should be noted that with the standard rib graft technique, there are several distinct advantages over other types of microtia ear surgery.
Living Tissue
Firstly, the ear is created out of living tissue. Therefore, it is real and of a matching skin tone. It also adjusts to heat and cold, making it look more natural. The body will not reject or react adversely to its own tissue. It will grow with the child and there is no need to "build-up" or enlarge the ear ever. It also is more durable than a plastic ear, and won't come off during sports activities or rough play. A plastic ear will need to be replaced as a child grows.
Pierced Ears
A rib graft technique ear can also usually be pierced. Many young girls wish to have their ears pierced and Dr. Jones can accommodate their wishes at the last stage of the surgery. While this is a relatively minor issue, it does help children feel more "normal."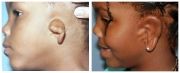 Resilience
The rib graft technique is a microtia reconstruction method that has stood the test of time. Even patients who have had trauma associated with the reconstructed ear all healed without incident. These trauma incidents include severe blows from soccer kicks, baseballs and hockey pucks, insect bites and stings and even dog bites.
Improved Social Skills
Microtia reconstruction surgery has tremendous psychological and emotional benefit for patients. This benefit increases as the child enters school, begins adolescence and enters adulthood. By having surgery at a young age, most parents feel they are solving the emotional problems before it starts. Older children who have had the microtia reconstruction surgery are noted by their parents as becoming more outgoing, social, and willing to participate in sports and other activities. An improvement in grades for these children has also been noted by parents.
Please contact us today if you have any questions or would to schedule a consultation with Dr. Mark Mitchell Jones.