Outer Ear Reconstruction and the Juxtaposition Ear (JE)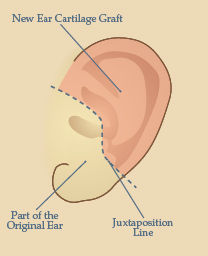 Dr. Mark Mitchell Jones specializes in innovative microtia repair techniques. Dr. Jones saves the good pieces of the original underdeveloped ear, an uncommon practice among plastic surgeons. Typically, prior to imposing a new ear on the place of the vestigial remnant, a plastic surgeon removes all of the underdeveloped ear pieces. This is done to reduce the amount of customizing required to connect the old and the new pieces and to avoid having to customize the new ear design to accommodate the old cartilage pieces. It also reduces the risks of having to deal with any connections from the old outer remnant to the inside ear. Most surgeons are not trained to manipulate the old cartilage pieces and thus risk hurting something inside the ear. However, Dr. Jones' combination training in both ears and plastic surgery permits him to juxtapose—to put the new pieces next to the old pieces of cartilage. Therefore, instead of removing all of the underdeveloped ear as is commonly done, Dr. Jones will save the good pieces and adjust his rib cartilage ear carving to combine smoothly the best of the old and the new. This allows for less cutting and dissection. The result is less scars and a more natural-looking ear.
Dr. Jones' Innovative Microtia Repair And Ear Reconstruction Techniques:
Please contact our office to schedule a consultation with Dr. Jones or for more information about this particular procedure. We look foward to hearing from you.