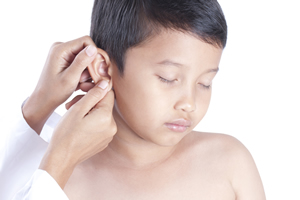 If you considering ear surgery there are several important words you should learn or at least be familiar to you. Terms that relate specifically to ear surgery and general surgical terms as well.
The first word being the medical name for ear surgery to reshape the ear itself: Otoplasty. This term is commonly associated with ear pinning, improving prominent ears. Two other words that relate to conditions of the ear are Microtia (meaning small or little ear) and Macrotia (ears that are too large).
Two other words that patients considering ear surgery need to know relate to the type of sedation used for the surgical procedure. General Anesthesia refers to the drugs and gases that are used to alter consciousness. Intravenous (IV) drugs are injected in a vein to help a patient relax.
Other important words describe the structure of the ear. These include Antihelical fold (the fold just inside the rim of the ear), the Conchal cartilage which is the deepest and largest concave cavity of the outer ear. The ear axis refers to the main line of ear growth.
Standard deformities of the ear include constricted ear which is more commonly known as a cup or lop ear. A constricted ear has varying degrees of protrusion, smaller ear consultant, folding of the upper rim of the ear and a low ear position. Cryptotia is also known as a hidden ear. A hidden ear is when the upper rim of the ear is buried under a fold of scalp. Another type of deformity is known Stahl's ear. This condition occurs when the ear is distorted due to abnormal folds in the cartilage of the ear.
If you're considering ear surgery it's important to learn as much as possible about your condition. Websites such as www.surgery.org, can answer a lot of questions for patients considering ear surgery.
Posted on behalf of Atlanta Plastic Surgery Specialists
3193 Howell Mill Rd NW, Suite 302
Atlanta, GA, 30327
Phone: (404) 355-3566
Email: manager@atlantaplastic.com
Monday & Tuesday 8:00 AM – 7:00 PM
Wednesday & Thursday 8:00 AM – 5:00 PM
Friday 8:00 AM – 2:00 PM